During these dire times, consumers have been kept afloat with a variety of government and business aids, such as the stimulus checks, federal unemployment payments, the PPP, small business loans, a halt on foreclosures/evictions and forbearance on student loans, mortgage or credit card debt. What happens when these end? Once the gate is lifted, the vicious cycle of financial pressure begins, and we are here to help you when it does.
So how do you address these financial issues? Individuals who have been affected by the pandemic are exactly the type of people that the Bankruptcy Code is intended to protect. That's right, you should consider filing a bankruptcy, and before you stop reading, give us an opportunity to address the very real initial mental stigma you just experienced at reading this suggestion:
Bankruptcy Stigma
There's often a stigma associated with bankruptcy. But the rampant damage of COVID-19 should minimize that feeling. There should be no shame or stigma with filing for bankruptcy, especially now. Honest and prudent people who have spent their life building a business, are finding themselves in an otherwise hopeless situation where they can't do business because customers are prohibited from coming into their business. Because of the stay at home orders and the unexpected disruption of COVID-19, hardworking men and women can't provide for their families and find themselves in crippling debt obligations that seem impossible to cure. At times like this, bankruptcy can't be viewed as a character issue. You should avoid bankruptcy if it's something you can reasonably do, but bankruptcies are a legitimate tool to be employed when necessary. In light of the economic damage caused by Covid-19, bankruptcies are necessary because without second-chance financial opportunities our economy will not recover.
If you recall, we asked you to allow us to address the initial mental stigma you experienced at being asked to consider bankruptcy, because in the 15+ years we have been practicing bankruptcy law, it has been our experience that a year or two after their bankruptcy, people never think about it. Nobody notices the absence of stress.
The storm is coming. Be ready for it. Call us today to discuss how a bankruptcy filing could give you or your business the fresh start you need.
Many Illustrious, Famous and Infamous People Have Filed Bankruptcy, Sometimes More Than Once, and Were Able to Move Forward to Achieve Great Things and Attain Success.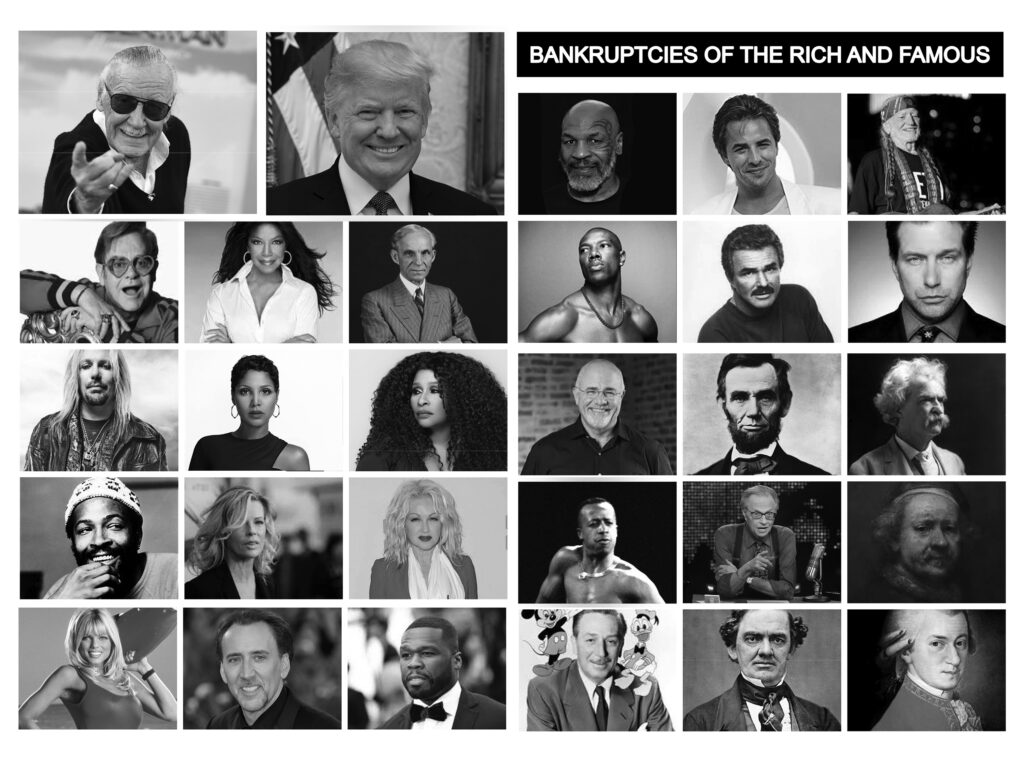 Henry Dunant, who was the founder of the Red Cross, filed bankruptcy. As did Dave Ramsey, the self-professed "get out of debt" guru, Stan Lee, the creator and founder of Marvel Comics and Walt Disney.
Other businessmen who filed bankruptcy included tire manufacturer Charles Goodyear as well as automobile manufacturers Henry Ford, John DeLorean and William C. Durant, founder of General Motors. Henry John Heinz, condiment manufacturer famous for Heinz ketchup, Milton Hershey, founder of Hershey's chocolate, and J.C. Penney also filed bankruptcy.
Singers Chaka Kahn, Cyndi Lauper, Natalie Cole, Toni Braxton and Tammy Wynette as well as actresses Barbara Bel Geddes, Debbie Reynolds, Donna D'Errico and Kim Basinger all filed for bankruptcy. As did singers Elton John, Al Jolson, Vince Neil, Andy Gibb, David Van Day, Jerry Lee Lewis, Marvin Gaye, MC Hammer, 50 Cent, Meatloaf, Mick Fleetwood, Tom Petty and Willie Nelson and actors Gary Busey, Stephen Baldwin, Nicholas Cage, David Cassidy, Mickey Rooney, Gary Coleman, Don Johnson, Buster Keaton, Burt Reynolds, Sherman Hemsley – aka George Jefferson of "The Jefferson's" sitcom and Bill Roache.
Famous sportsmen who also filed for bankruptcy include Jose Conseco, Bjorn Borg, Chris Eubank, George Best, Mike Tyson, Leon Spinks, Joe Lewis, Keith Gillespie, Warren Sap, Terrell Owens, Eddie 'The Eagle' Edwards and Johnny Unitas. Dorothy Hamill, figure skater Olympian also filed.
If someone were to ask you what Mark Twain, Oscar Wilde, Daniel Defoe, Miguel de Cervantes, Frank Baum, Handel, Isaac Hayes, Rembrandt, James Abbot McNeil Whistler, Lionel Bart and Wolfgang Amadeus Mozart had in common other than being authors, composers, artists and painters, would you have guessed that they also were all once bankrupt? Historian David Irving could be included in that category also.
Even royalty and presidents did not escape the scourge. Philip II King of Spain, Edward II a fourteenth century King of England and Presidents Donald Trump, Ulysses S. Grant Abraham Lincoln, Thomas Jefferson, and William McKinley all suffered from financial difficulties resulting in their bankruptcies. Also former presidential candidate George McGovern and John Conally the Texas governor who was injured while riding with President John F. Kennedy at the time of his assignation.
The entertainment industry furnishes us with the names of a few more famous bankrupts: Henry Saltzman, film producer, Larry King, talk show host, Jim Davison, comedian, Michael Barrymore, TV presenter, P.T.Barnum the great circus owner, Anna-Nicole Smith, reality star, Janice Dickinson, self proclaimed "first supermodel", Teresa Giudice, known for her role in The Real Housewives Of New Jersey.
Considering Filing Due to COVID-19
When President Trump signed the CARES Act in March, there were temporary changes made to the United States Bankruptcy Code. Among these are certain temporary amendments to Title 11 of the United States Code (the "Bankruptcy Code"). The impact of these changes on small businesses was covered in our blog New Bankruptcy Reorganization Law and the CARES Act May Help Small Businesses and Individuals Navigate The Economic Disruption Caused by COVID-19.
Section 1113 of Title I of the CARES Act – the Keeping American Workers Paid and Employed Act – contains amendments to the Bankruptcy Code affecting individuals. For individual debtors, the CARES Act "temporarily amends certain definitions in Chapter 7 and Chapter 13 bankruptcy filings to exclude COVID-19-related payments from the federal government from being treated as part of a debtor's income. For example, the amendments exclude COVID-19 related payments both from the definition of "current monthly income" for purposes of determining a debtor's eligibility for Chapter 7 or Chapter 13 bankruptcy and from the calculation of "disposable income" for purposes of Chapter 13 plan confirmation." Because of these modifications to the bankruptcy code, debtors who need to file, will have some protections that didn't exist prior to the CARES Act.
Conclusion
While bankruptcy is never something we want to consider, the COVID-19 pandemic has caused financial hardship many people have never seen in their lifetimes. Recognizing this, you should take any necessary step, including filing a bankruptcy, if you need it. It is not the end of the world, it is a step forward to getting back on track.
As we continue to monitor COVID-19, we are working collaboratively to stay current on developments and counsel our clients through the various legal and business issues that may arise across a variety of sectors.
Our hearts and thoughts go out to the people who have been affected by this unprecedented event and we appreciate the healthcare workers, local communities, and governments around the world who are on the front line working to contain this Novel Coronavirus.